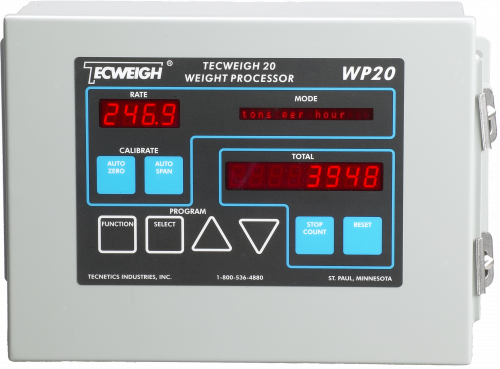 Tecweigh's Model WP20 processor offers a basic electronic control to measure and totalize the flow of material across a single belt scale or weigh belt.
The processors bright, easy to read LED display, allows the operator to quickly see the current status, rate and total of the scale. The tactile keypad has oversize buttons so changes can be made with a few quick keystrokes, even while wearing work gloves.
Features:
Bright LED readout
Can be installed up to 4,000 feet from the scale
Wireless options
Displays rate, belt speed and total
Auto zero and auto span calibration
Zero and auto zero tracking
100 – 240 VAC or 12 – 24 VDC
Options for Ethernet IP, Modbus TCP, DeviceNet or Profibus DP
NEMA 12 standard carbon steel painted enclosure, NEMA 4 & 4X stainless steel available.