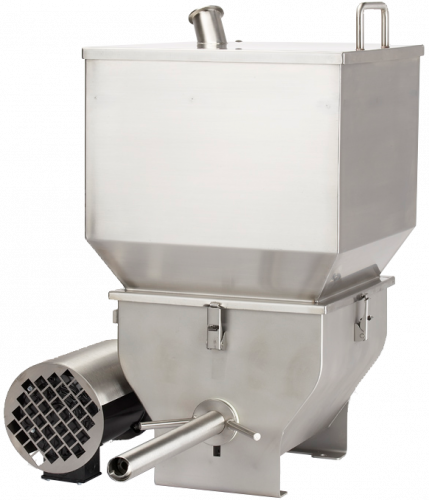 When high turn down is required for your applications, our new 5 and 10 series volumetric feeders will fill your requirements. With 40:1 turn down these feeders will often save money you would otherwise have tied up in multiple augers and feed tube diameters to satisfy the range required. Not to mention the money sitting in your spare parts inventory for multiple diameters as well.
With a heavy gauge glass bead blasted 304SS cabinet designed for easy cleaning and externally mounted inverter duty motor and bulletproof planetary reducer these feeders are designed for the long haul. Couple that with a quiet running cogged belt drive and we have a volumetric feeder that is sure to satisfy all your needs.
The S5A model is a hybrid of the 5 series volumetric feeder. Utilizing the 5 series Flex Feed hopper and feed tube and auger design you have an easy upgrade path to high turn down and can still utilize your 5 series inventory of spares.
The V10 model is the QC10 feeder without the Quick Clean options. This feeder boasts all the other qualities of the QC10 feeder except the bottom opening in the Flex Feed hopper.