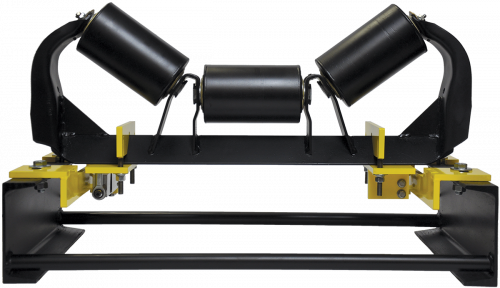 Benefits of a modular scale with the dependability of a Tecweigh
Tecweigh scales are known for their dependability and you get nothing less from our new HY15 Hybrid Belt Scale.
The HY15 Hybrid Belt Scale was designed to incorporate the tried and true Tecweigh electronics package with the less costly modular scale frame design. The compact, low profile design is suitable for many conveyor applications (including mobile units). Made with heavy-duty cold rolled steel, the HY15 will withstand the harshest environments.
Featuring two (2) NTEP approved strain-gauge load cells, the HY15 offers a single-idler accuracy of ½-1%. The dual-idler HY25 model provides an accuracy of ¼-½%. These scales come with a complete installation kit, mechanical overload protection, signal conditioning enclosure, calibration weight brackets, speed sensor, and Tecweigh's standard five year warranty.
For mobile applications the HY15 offers a unique weighing design.  One module is a rigid mount from the idler to the load cell, with the other incorporating a forgiving spherical bearing to greatly reduce drift problems caused by flexing structures.
Tecweigh's Hybrid Belt Scales can also be provided with optional features including wireless communication, multi-scale processor, printer, remote displays and more.
Tecweigh's WP25 weight processor, or any other Tecweigh processor, makes your HY15 or HY25 a complete weighing system.
HY15 Features
Heavy-Duty Cold Rolled Steel Modules (one rigid mount, and one spherical bearing mount – flex module)
Hardware Provisions (to modify flex module into a rigid configuration)
Low Profile and Compact Design
Simplified Design for Quick and Easy Installation
Two (2) Precision NTEP Approved Strain Gauge Load Cells
Tail Pulley Mounted Speed Sensor with 25' of Cable
Mechanical Overload Protection
½ -1% Accuracy (with single-idler HY15 Model)
Mounting Brackets for Static Weight Calibration
Installation Kit
Electronic Weight Processor
Embedded Microprocessor Technology
Auto Zero/Auto Span
Bright, Easy-to-Read ½" LED Display
Full Time Self Diagnostics
Processors Provide: 4-20 mA Analog Rate, Totalizing Pulse Relay, Remote Interlock/Reset, RS232/RS485 Ports and more
Options
6" Rubber Tired Speed Sensor
Wireless Communication
Industrial Network Protocols (Ethernet IP and Modbus TCP)
Chart Recorders and Data Loggers
Ticket and Tape Printers
Scoreboard Displays
Remote Rate/Total Displays
Multi-scale Processor, Feed Rate Controller and Load Controller
¼-½% Accuracy (with dual-idler HY25 Model)
Various NEMA Ratings
Stainless Steel Load Cells
All Stainless Steel Contruction
Longest Warranty in the Industry
Every Tecweigh conveyor belt scale is covered by our exclusive 5 year warranty.