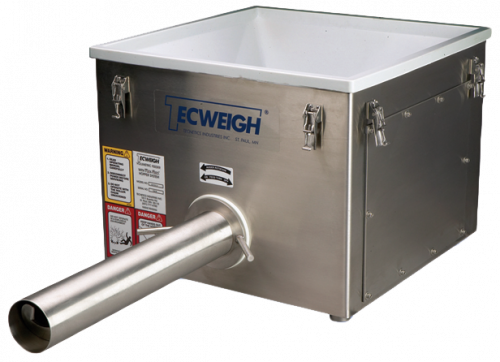 The Flex-Feed® Volumetric Feeder is an ideal solution for your solids metering needs. Designed to handle difficult materials, the Flex-Feed® polyurethane hopper with external agitation paddles, flexes the feed hopper to promote flow, condition material, and help reduce and eliminate product degradation, rat-holing or bridging. This also helps keep the auger full of material ensuring accurate volumetric feed rates. Our single auger design provides uniform and accurate metering of the product.  These Volumetric Feeders provide a robust and reliable solution while maintaining a low cost of ownership.
They are available in optimal sizes to suit your application needs. The base feeder sizes include the "5 Series", which is the smallest, with a 0.5 cubic foot capacity Flex-Feed® hopper; the "12 Series" offers a 1.2 cubic foot capacity; and the "28 Series" is the largest with 2.8 cubic foot Flex-Feed® hopper.  An extension hopper may be added based on the application requirements or customer preference.
Our patented, simple design benefits from very few moving parts, provides quick access to common wear parts, limits breakdowns and can be disassembled in seconds!
Standard feeder design consists of multiple cabinet and chassis material options. The standard auger, feed tube and massaging paddles are constructed of 304 Stainless Steel.
They are designed to accurately and dependably accommodate a wide variety of common dry materials, from powders to pellets and feed rates of up to 900 cubic feet per hour. Typical applications provide approximately 2-4% accuracy given consistent material bulk density and flow characteristics.
Flex-Feed® features
Flex-Feed® hopper with 5 year warranty
Industrial Grade
Food Grade
Chemical Resistant
Agitation Paddles

Heavy Duty Stainless Steel Welded Construction
Unique Design Minimizes Hopper Wear
Sealed Roller Bearings on Paddle Shafts

Controls

NEMA 4 Control Enclosure
Digital Potentiometer
Illuminated On Switch
Remote Interlock
120 VAC Input Power
AC or DC motors

Oversized Roller Chain Drive
Automatic Chain Drive Tensioner

Patented Cartridge Drive Bearing Assembly
Tool-less Disassembly

Quick disconnect Auger and Feed tube

Easy to Clean design
Options
Extension Hoppers and covers in many sizes, shapes and materials
Custom Augers and Feed Tubes
Spreader tubes with adjustable UHMW Sleeves
Custom Controls
Batching Units
Independent Paddle Speed Control
Tach Feedback
4-20 MA Speed Indication Output Signal
316 Stainless Steel
100% Stainless Steel Construction
NEMA 4X or Explosion Proof (NEMA 7/9) Enclosures
Fast/Dribble SCR Drives
Remote Set Point
Batch Controllers
220 VAC Input Power
Special Finishes
Inverter Duty Rated Motors
Explosion Proof Motors
Wash Down/Chemical Duty Motors
Stainless Steel Drive Components