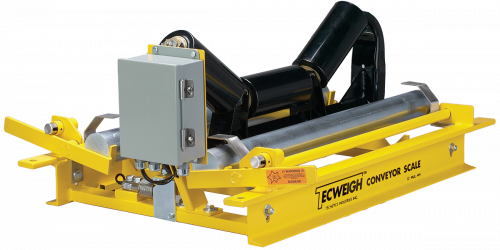 Keeping with our tradition of unbeatable accuracy, dependability and ease of use leads Tecweigh to combine its unique time and labor saving belt scale features with strain gauge load cell technology in its WY15 Conveyor Scale.
The Tecweigh WY15 Single Idler Conveyor Scale utilizes two NTEP approved bending-beam load cells, features rigid all-welded construction. It is more reliable, more durable and easier to use than the competition's scales and is backed with a five-year warranty!
WY15 Features
± 1/2% Accuracy in Factory Approved Installation
Rugged Steel Carriage
Self-Storing Calibration Weights
User-Friendly Electronic Weigh Processor
The Longest Warranty in the Industry; 5 years!
Other Options
Wireless Communication
Chart Recorders
Ticket/Tape Printers
Remote Rate/Total Displays
Scoreboard Displays
Industrial Network Communication Protocols (Ethernet IP and Modbus TCP)