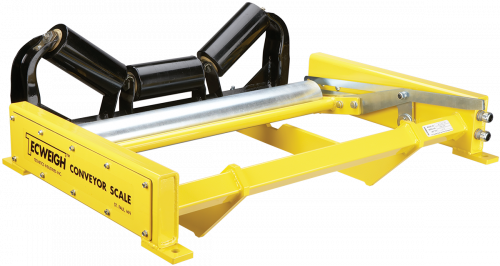 The Tecweigh WY10 Single Idler Conveyor Scale is the most dependable and rugged belt scale on the market. Weather-tight one-piece construction keeps your line rolling even in the most extreme conditions: dust, dirt and harsh weather. Unique within our industry, the WY10 utilizes LVDT load sensor technology. LVDT load sensors simply can't be overloaded and are far less susceptible to damage from lightning strikes, making blown load cells a thing of the past.
WY10 Features
± 1/2% Accuracy in Factory Approved Installation
Rugged Steel Carriage
Self-Storing Calibration Weights
User-Friendly Electronic Weigh Processor
The Longest Warranty in the Industry; 5 years!
Other Options
Wireless Communication
Chart Recorders
Ticket/Tape Printers
Remote Rate/Total Displays
Scoreboard Displays
Industrial Network Communication Protocols (Ethernet IP and Modbus TCP)