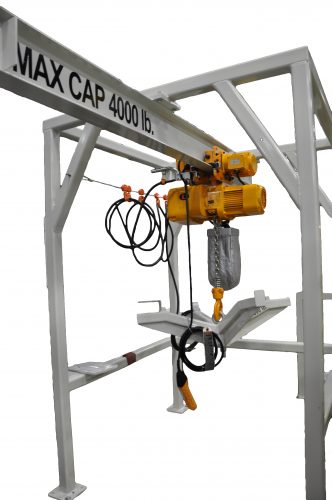 The HDBB-1000 frame is designed with a 2-ton integral powered hoist & trolley to quickly and conveniently load/unload super sacks.  Hoist control is simply done using the included pendant control.  The I-beam extends roughly 48 inches past the frame, so there is plenty of room to stage a full bag.
Construction of the frame includes 3 inch heavy wall structural tubing.  The frame is rated, and certified, for 4,000 pound bags of product.  The wide stance of the frame accommodates bags up to 48 inches wide and 72 inches tall.  For location installations that are difficult to reach, the frame is modular, so it can be disassembled, and reassembled once in your facility potentially saving time and expense.
Since most dry materials require some assistance to maintain flow, bag agitation is supplied with the standard system, however, should your product flow freely the agitators can be removed.  The Agitator can be adjusted to provide optimal amplitude, and frequency to maintain flow of your product.
Integral bag access hoppers are available to allow Operators safe access to the bag spout, and minimize dust that occurs when a new bag is opened.  Stand-alone hoppers suspended in the frame, or are integrated in a feeder mounted design are available.  Integral hoppers can be supplied in either carbon steel, or stainless steel construction.
When a feeder is required, a support structure is also included.  The overall height of the frame can be varied, based on your process requirements.  Need a Gravimetric feeder…?  No problem.  Designs are available to integrate a Tecweigh Loss-in-Weight feeder and refill hopper, or even a weigh belt feeder.
HDBB-1000 Features:
Heavy duty welded steel construction
Easy to use
Adjustable height
Baked on polyester powder coated finish
Options:
Agitator with adjustable width and speed
NEMA 4 control enclosure with digital speed control potentiometer
1/2 or 3/4 HP DC motor
Power hoist and trolley
Air operated hoist and trolley
Knock down framework that saves on shipping costs
Volumetric Feeders
Custom controls
Custom applications
Loss In Weight configurations